Recognitions and Awards
Stephen Happ Named National Merit Commended Student

Stephen Happ has been named a Commended Student in the 2020 National Merit Scholarship Program. A Letter of Commendation from the school and National Merit Scholarship Corporation (NMSC), which conducts the program, will be presented by the principal to this scholastically talented senior.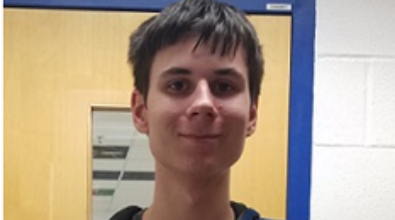 About 34,000 Commended Students throughout the nation are being recognized for their exceptional academic promise. Although they will not continue in the 2020 competition for National Merit Scholarship awards, Commended Students placed among the top 50,000 scorers of more than 1.5 million students who entered the 2020 competition by taking the 2018 Preliminary SAT/National Merit Scholarship Qualifying Test. "Those being named Commended Students have demonstrated outstanding potential for academic success," commented a spokesperson for NMSC. "These students represent a valuable national resource; recognizing their accomplishments, as well as the key role their schools play in their academic development, is vital to the advancement of educational excellence in our nation. We hope that this recognition will help broaden their educational opportunities and encourage them as they continue their pursuit of academic success."

Teachers Earn CLM Certification
Julie Neese Whitaker and Heather Miller Certified as Competent Learning Model Coordinators
The Competent Learner Model is described as a "best practice" instructional model that has proven successful with students who have challenging behaviors or intellectual disabilities. Behavior analysis, precision teaching, and direct instruction form the foundation of the Competent Learner Model. Students focus on improving their skills in behaviors that a person habitually uses: participating, problem solving, listening, talking, reading, writing, and observing. As their capability in these areas increases, students will become competent or capable learners.
Both Heather Miller and Julie Neese Whitaker received CLM Coordinator Certification this year and were recognized for that accomplishment at the September 12 regular meeting of the Shenandoah County School Board
NATIONAL AGRICULTURAL EDUCATION AWARD

Sherry Heishman, Agricultural Education teacher at Central High School (Woodstock, VA), was named one of only six individuals nationwide who received the National Association of Agricultural Educators Teacher Mentor Award, given at the NAAE annual convention in San Antonio, Texas.
FCCLA National Leadership Conference Recognitions

Report from Holly Roberts, FCCLA Adviser from Central High School
(hroberts@shenandoah.k12.va.us)

Central High School's FCCLA was a part of Family, Career and Community Leaders of America's (FCCLA) largest National Leadership Conference in Anaheim, California, June 29 - July 6. More than 8,700 attendees were gathered together to listen to inspiring speakers, expand leadership skills, sharpen talents, and explore career pathways.
Sophomore Lisa Carroll competed in Chapter in Review Display and earned a silver medal. Junior Trinity Long competed in Interior Design and earned a silver medal. Freshmen Emily Burner and Cheyenne Estep competed in Entrepreneurship and Advocacy and both earned gold medals.

From left: Lisa Carroll, Trinity Long, Emily Burner, and Cheyenne Estep
Students who did not compete volunteered to assist judges, a very important role to ensure enough volunteers for competitors to compete. Senior Hannah Copp, who will major in Family and Consumer Sciences Education at Bridgewater, had graduated; so, she was able to be a judge in Early Childhood Education, an event that she had placed first in at states last year, and earned gold at Nationals.
Five students from Central also successfully completed the new, revamped leadership academy, now using the curriculum from FranklinCovey. These students completed a range of self-reflective and interactive activities based on their last completed grade in order to help them realize their leadership potential where they are at this point in their lives.

From left: Michaela Black, Cheyenne Estep, Lisa Carroll, Alexis Himes, Maddi Hopkins
, Trinity Long, Hannah Copp, Emily Burner, Shannon Nicely
All eight students from Central along with Holly Roberts, and chaperone and SCPS employee Adrianne Burner attended the Disney Y.E.S. Leadership seminar and learned Walt Disney's 4 core values that guided him to success.
"We learned," said Ms. Roberts, " that Walt Disney didn't let anyone stop him from pursuing his crazy dreams, even if it meant hiding a half court basketball court inside a roller coaster to get around city ordinances."
Back: Holly Roberts, Michaela Black, Trinity Long, Shannon Nicely, Hannah Copp, Kristi Post
Front: Alexis Himes, Emily Burner, Maddi Hopkins, Cheyenne Estep, Lisa Carroll
Students also had some fun along the way visiting Hollywood and Santa Monica Pier, seeing the Magical World of Color light show at California Adventure, and spending a day at Disneyland.
"If you think the rides were the only exciting and terrifying thing, commented Ms. Roberts, " you're not quite right -- the FCCLA group was also in California for two of the biggest earthquakes in the last twenty years in California. One they experienced during sessions in the conference hotel and another at a restaurant in Downtown Disney. Most of the students did not feel the first did feel the second as lights rattled and some plates fell from serving trays during the 7.1 earthquake. Students remembered their training from drills and knowledge from Earth Science about earthquakes, aftershocks, and remembered to use the stairs and not the elevator," noted Ms. Roberts.